Recruitment Success Stories
21-Mar-2016
Walgett Aboriginal Medical Service Limited
(NSW) Aboriginal Health and Medical Research Council's Recruitment and Retention Strategy
Background
Walgett Aboriginal Medical Service (WAMS) has been providing health services to the local community since 1986. WAMS is also one of the largest employers of Aboriginal people in northwest of NSW. The organisation has always been proactive in recruiting Aboriginal people and over 50% of employees at WAMS are Aboriginal.
A recent innovation, the implementation of a Recruitment and Retention Strategy in collaboration with the (NSW) Aboriginal Health and Medical Research Council (AH&MRC) has been successful in recruiting Aboriginal people into a range of traineeships at WAMS. The Strategy was supported by funding from the Department of Prime Minister and Cabinet. The Strategy provides a range of support to Aboriginal people who have no health qualifications to apply for a job and if employed undertake training in a health qualification.
Two recent success stories are Eileen Byers and Glenn Sands who were recruited in December 2015 as trainee Aboriginal Health Workers and are undertaking Certificate III in Aboriginal and Torres Strait Islander Primary Health Care.
Eileen
Eileen is from Casino and has taken the courageous step to move to Walgett to work at WAMS. She has left her family and friends to take up this opportunity to study and develop a career for herself in Aboriginal Health. Eileen is already a role-model for many people having being accepted into the Indigenous Marathon Project last year and completing the New York Marathon. Eileen says that leaving her family has been the biggest challenge for her so far in taking up the position at WAMS. "I want to have a career in health and it was important for me and my family that I do this. Everyone at Walgett has been fantastic and I love working at WAMS," she says.
Glenn
Glenn was born and raised in Walgett and is a proud Yuwaalaraay/Gamilaraay man. After a variety of jobs, including working as a self employed sole-trader, and a member of the NSW Fire & Rescue, he made the decision to apply for a traineeship at WAMS. He chose to become an Aboriginal Health Worker at WAMS because "I wanted to help my community." One of the things he likes about working at WAMS is the training he's receiving with the opportunity to improve his career path and each the peak of my career." His advice to others in a similar position as himself is:"…be proud in what you do."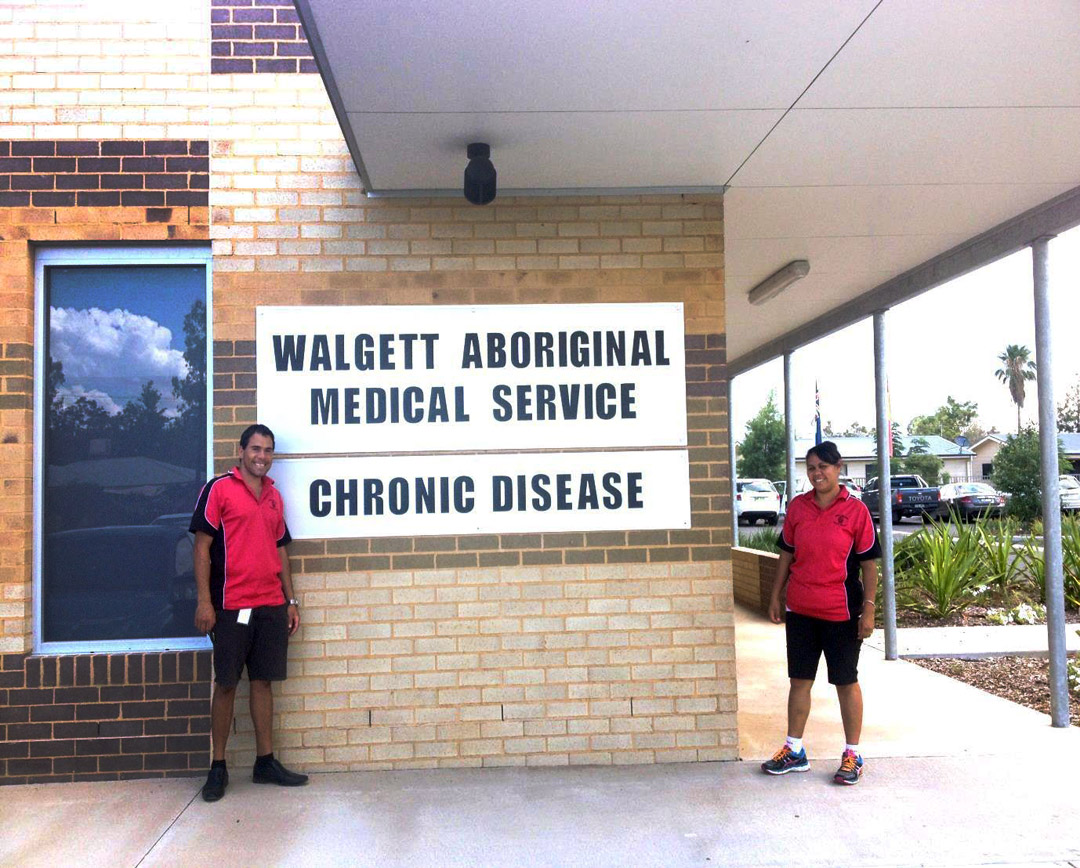 Glenn and Eileen outside the WAMS Chronic Disease building.