Dental
In 2014 WAMS achieved Dental Practice Accreditation through the Quality Innovation Performance (QIP) group.
General Information
The WAMS Program Team provide Primary Health Care and opportunistic health screening to towns within the Walgett Shire and other remote locations. One of the main focuses of the Program Team is to provide health promotion activities which are implemented into the community to increase awareness on various health issues.
Dental
In August 2014 the WAMS dental clinic was awarded full accreditation against the National Safety and Quality Health Service Standards for Introductory Dental Practice Accreditation. The accreditation, which is voluntary for non-governmental dental clinics, lasts for two years.
The WAMS dental program achieved this through the Quality Innovation Performance (QIP) group, and the support of the Australian Dental Association.
WAMS have regular dentists who come on a rotational basis and a dental therapist that comes weekly.
The Dental Team Leader and Dental Assistants provide the dentists with a smooth running clinic and offer clients understanding and patience.
The Dental Team can be located in the Dental Wing of the Clinic Building at Dundas St and appointments can be made by calling 6820 3776.
WAMS Dental ACHR 2016 (61 KB)
iSmile Dental Assisting Courses (797 KB)
Practice Accreditation in Walgett (2358 KB)
Dental Services (148 KB)
Achieving oral health equity for Aboriginal communities (586 KB)
Toothbrushing Manual (3862 KB)
Oral Health Therapist - Stacey Webb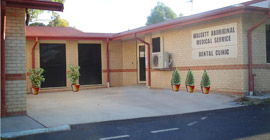 Dental
Dundas St