GOONIMOO MOBILE CHILDREN'S SERVICES
General Information
The WAMS Program Team provide Primary Health Care and opportunistic health screening to towns within the Walgett Shire and other remote locations. One of the main focuses of the Program Team is to provide health promotion activities which are implemented into the community to increase awareness on various health issues.
Goonimoo Mobile Children's Services
The Goonimoo Mobile Children's Service visits the towns and communities of Collarenebri, Carinda, Goodooga, the Mercadool Group and a number of outlying properties. The program also runs a Long Day Care Service at Euragai Goondi three days a week.
Goonimoo receives licencing reviews by the Department of Human Services NSW ensuring standards are met to continue operating as a licensed Children's Service.
The staff, consisting of the Manager of Children's Services who has a diploma in Teacher, Bachelor of Teaching (Birth to 5 years), and the Early Childhood Educators who are Studying Certificate III in Education and Care Services, interact with the children and families to offer a relaxed and friendly service.
The Service is located at the Goonimoo Building and can be contacted on 6820 3752 or mobile 0428 678 852.
AHMRC child car seat safety checklist Final (2422 KB)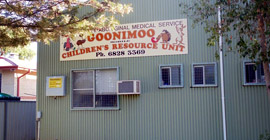 Goonimoo
Lot 1 Dundas St