MEN'S HEALTH
General Information
The WAMS Program Team provide Primary Health Care and opportunistic health screening to towns within the Walgett Shire and other remote locations. One of the main focuses of the Program Team is to provide health promotion activities which are implemented into the community to increase awareness on various health issues.
Men's Health
WAMS conduct Men's health activities during the year, ie the Men's Pit Stop, which identifies Men's Health issues.
The program also holds training and exercise sessions for the community to aid in developing a healthier lifestyle for the people of Walgett.
The Men's Health Program is located in the Shop Front at 37 – 47 Wee Waa St and can be contacted on 6820 3777 or 6820 3763 or by mobile 0400 355 361.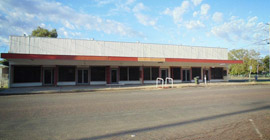 Programs
37 – 47 Wee Waa St