SEXUAL HEALTH
General Information
The WAMS Program Team provide Primary Health Care and opportunistic health screening to towns within the Walgett Shire and other remote locations. One of the main focuses of the Program Team is to provide health promotion activities which are implemented into the community to increase awareness on various health issues.
Sexual Health
This program provides a range of activities to Walgett and surrounding communities which include fortnightly clinics, health Promotion and School Education.
Overseeing the program is a Registered Nurse (RN) who offers a culturally appropriate Sexual Health Service which is FREE and CONFIDENTIAL and you do not require a Medicare card. Treatment of any infections identified is also FREE.
This program also maintains the Coinless Condom Machines.
The RN is located in the Shop Front at 37 – 47 Wee Waa St and can be contacted on 6820 3764 or mobile 0409 609 113.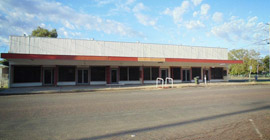 Programs
37 – 47 Wee Waa St