Dental
General Information
The WAMS Dental program provides comprehensive dental care and prevention services to the population of Walgett and nearby locations with a focus on primary preventive dental care and treatment for children and young adults.
The structured child dental program, in coordination with the WAMS Dental/Oral Health Therapist, regularly screens preschool and school aged children, offering follow up dental care and preventive advice. There is a school based toothbrushing program in the primary school. In March 2015 WAMS installed a water chiller in the primary school to encourage the children to drink water. WAMS also provides drink bottles to the children.
Adult care is provided by visiting dentists and a dental prosthetist who takes care of denture needs. The dental care of patients is run in coordination with the Chronic Disease, Diabetes and Maternal Health programs.
The WAMS dental team participates in the community based Health for Life programs, liaises with other community and regional groups, and maintains ongoing relationships with other local providers such as the Western NSW Local Health District.
The clinic is managed by local staff who fill the roles of Dental Team Leader and Dental Assistant. They have achieved their Certificate 3 in Dental Assisting.
Dental Practice Accreditation
In August 2014 the WAMS dental clinic was awarded full accreditation against the National Safety and Quality Health Service Standards for Introductory Dental Practice Accreditation. The WAMS dental program achieved this through the Quality Innovation Performance (QIP) group, and the support of the Australian Dental Association.
The accreditation, which is voluntary for non-governmental dental clinics, lasted for two years. The program is now completing the second cycle of accreditation.
The Dental Team can be located in the Dental Wing of the Clinic Building at Dundas St and appointments can be made by calling 02 6820 3777 Extn 776.

Dental Program Outline - July 2019

WAMS Dental ACHR 2016

iSmile Dental Assisting Courses

Practice Accreditation in Walgett

Dental Services

Achieving oral health equity for Aboriginal communities

Toothbrushing Manual
Oral Health Therapist - Stacey Webb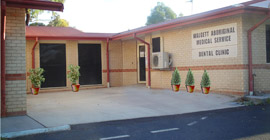 Dental
Dundas Street