Employee Accommodation
A variety of accommodation is offered to long-term and visiting WAMS employees, from standalone houses to units. Doctors, dentists, visiting Allied health specialists, nurses, visiting agency nurses, Aboriginal Health Workers are encouraged to apply, and eligibility is assessed on a case-by-case basis.
Accommodation terms range anywhere from a few nights, to weeks, to years. While spaces can be limited, WAMS does our very best to accommodate as many employees from a range of specialties as possible.
Each residence is provided fully furnished, including linen, and features a kitchen, bathroom and laundry. Aside from personal items, all you need to do is walk in! We endeavour to maintain each residence to a high quality, with regularly scheduled health and safety inspections. Everything is quite close in Walgett. Many WAMS employees opt to walk to work from their accommodation.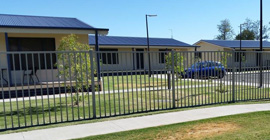 Dundas Street Accommodation
Dundas Street