EXERCISE PHYSIOLOGIST / DIETITIAN
General Information
The WAMS Program Team provide Primary Health Care and opportunistic health screening to towns within the Walgett Shire and other remote locations. One of the main focuses of the Program Team is to provide health promotion activities which are implemented into the community to increase awareness on various health issues.
Exercise Physiologist / Dietitian
The Exercise Physiologist and Dietitian are part of the Healthy for Life Program and are based at WAMS, arranging clinics and educational programs across the Bila Muuji Upper Sector Consortium for clients meeting the 'Healthy for Life' criteria. The Exercise Therapy Room is available to clients to use once an initial consultation has been completed.
The Exercise Physiologist/Dietitian can be located in the Chronic Disease Building and appointments can be made by calling (02) 6820 3777.
Visit the below website to find out more about sugary drinks:
www.rethinksugarydrink.org.au.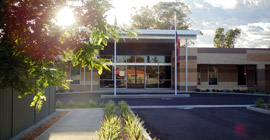 Chronic Disease
29 Wee Waa St