HEALTHY FOR LIFE
General Information
The WAMS Program Team provide Primary Health Care and opportunistic health screening to towns within the Walgett Shire and other remote locations. One of the main focuses of the Program Team is to provide health promotion activities which are implemented into the community to increase awareness on various health issues.
Healthy for Life
The Healthy for Life (H4L) Program provides Aboriginal clients who are elderly and / or those with chronic disease with regular health assessments.
The H4L Team is led by a Registered Nurse (RN) who works closely with the Aboriginal Health Worker, offering support to the Doctors, Community Nurse and the Clinic Team to ensure that clients are seen by the appropriate personnel.
The Healthy for Life Team can be located in the Chronic Disease Building at 29 Wee Waa St and can be contacted on (02) 6820 3777 or mobile 0437 694 219.
New Research - 3rd June 2020
Diet and exercise reverses diabetes in 61% of patients, new trial reports
The newly published results of a clinical trial evaluating the efficacy of diet and exercise as a front-line type 2 diabetes treatment reveal nearly two-thirds of patients achieved complete disease remission after just 12 months of lifestyle interventions.
---
Walgett Aboriginal Medical Service conducts health checks in Walgett, Goodooga and Pilliga each year.
The health checks are a free and confidential service available to all Aboriginal people aimed at the prevention of chronic diseases through early detection to and treating chronic diseases such as hypertension diabetes, kidney , heart and respiratory diseases where they already exist. Non Aboriginal people are also welcome to attend.
If Aboriginal people are unable to attend a health check day, they can see their General Practitioner or attend a Chronic Disease clinic to have this important annual health check.
For information on how you can have a health check, please contact the Chronic Disease Manager at Walgett AMS on 02 6820 3705.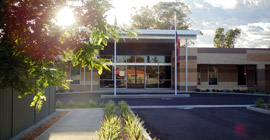 Chronic Disease
29 Wee Waa St